Achtung Baby! 


 by Dan Shippey & Michael Burns

   Hessians! A word that inspired fear in Washington's army. German soldiers whose service was purchased by King George to fight against the American rebels. Their name originated from the fact that the many of the soldiers (almost 13,000) came from the germanic state of Hesse-Cassel, as did their commander General Wilhelm von Knyphausen. They were royal subjects impressed into service by their various Princes, Counts and Dukes, disciplined and trained to be among the best soldiers in the world, then hired out to swell their leaders' purses. Throughout the war, approximately 30,000 of these soldiers came to fight against the patriots in America.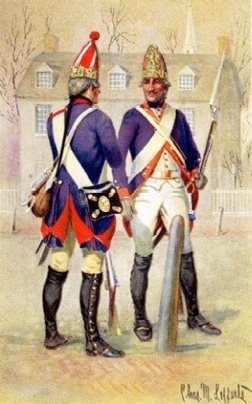 Almost everything about these troop seemed foreign and frightening to the early American army, who were, after all, largely militia and green soldiers in a new army. The Hessians wore crisp blue and white uniforms with tall pointed miter hats.  Their hair was worn in a long "
rattenschwanz" or rat tail wrapped tightly in cloth.  Many had mustaches, while colonial Americans shunned facial hair. Their foreign appearance and strange language made them an exotic threat which allowed the imaginations of Americans to ascribe all kinds of wild stories to these alien boogymen. A generation later, author Washington Irving would write the Legend of Sleepy Hollow.  He fashioned his nightmare figure The Headless Horseman as, "the ghost of a Hessian trooper, whose head had been carried away by a cannon-ball." In fact, while some Hessians were crack units deserving fear and respect, many were just poor men forced to be soldiers and working for food rations. Many Loyalists who supported King George changed sides to support the patriots when they heard their King had hired foreign mercenaries to "invade" their land. From the time the first Hessian soldiers landed at Staten Island on August 15th, 1776, they were involved in most of the major battles and campaigns. The first action they saw was the battle of Long Island, and there were even a number of Hessian troops that fought at Yorktown five years later in 1781. These men made up almost a quarter of all the British forces in America.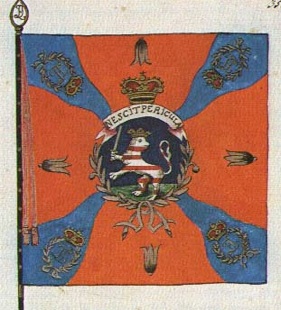 The Hesse Cassel flag
    One of the more interesting facts about the Hessian soldiers in America is what became of them after the war. Estimates say that of the 30,000 who came to fight only 17,000 returned to their German homeland. Almost 8,000 died in combat or from illness in America, but that leaves 5,000 unaccounted for. What became of this final 6th of the Hessian troops? Their descendants live among us today.