Ghost In The Machine

by D.H.T. Shippey & Michael Burns

In 1783, Benjamin Franklin received a fascinating invitation. A mechanical genius by the name of Wolfgang von Kempelen had built a machine known as The Turk that challenged Dr. Franklin to a game of chess.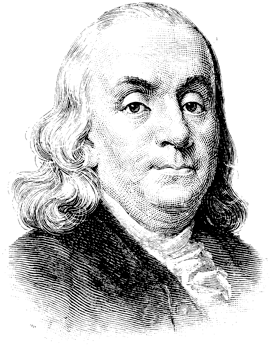 Franklin was in Paris as an American diplomat, and the machine (originally built in 1770) was giving demonstrations in the city as part of a European tour. Benjamin Franklin was not the first person of note to sit down at a game with the automata player, but it appears that he was the first American to do so. From reports of other games played by The Turk, we have a pretty fair idea of what Franklin encountered. It was a wooden cabinet, approximately 4 feet long, 2.5 feet deep, and 3 feet high, resting on four brass casters with sliding panels in front that could be opened to reveal the clockwork systems inside. On top of this cabinet was a chessboard and a carved wooden figure of a turbaned man with a long Turkish pipe.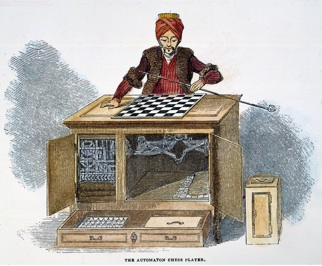 Kempelen would begin the demonstration by exposing the working parts of the machine and established that there was no one inside. Then he would take a large key and wind up the device. Once engaged, the figure would come to life and begin the match. The Turk played white and so always made the first move. If you made an illegal move it would shake its head and even move the piece back to where it originated.
     Dr. Franklin was known to be an avid chess player and had even written on the subject. When he came to his match against The Turk, he knew the machine's reputation. It had beaten some of the best players in Europe and had an impressive but not perfect record of winning. It was an aggressive player that usually defeated opponents within half an hour. As the game was played, Kempelen would occasionally make small adjustments to the mechanical parts on the figure, but nothing that could possibly affect the game. When it was all over, Franklin wrote that it was one of the most enjoyable games of chess he had ever played--a pleasant way of saying he lost. This would make Benjamin Franklin the first American to experience being defeated by a machine, something most Americans today could certainly relate to. Franklin, always the diplomat, was a gracious loser in spite of the fact that he suspected somehow the machine was an illusion and that someone was manipulating it. Even with all his belief in science and innovation, he just could not fathom how a machine might think.