Giant

by D.H.T. Shippey & Michael Burns

Like an ancient Greek myth, the story of the Giant of Virginia begins with a mysterious appearance. In 1765, on the docks of City Point, Virginia, a five-year-old child is found wandering alone. He has a swarthy complexion, wears fine clothing, and has silver shoe buckles with the initials P & F on them. He is able to communicate his name, Pedro Francisco, but little else. There were not many options in colonial America for dealing with an unusual case like this, as a result the boy was sent to the poorhouse. The displaced boy, now called Peter by those around him, did not stay in the poorhouse for long. Judge Anthony Winston took the boy as a servant on his plantation. It is hard to say how long Peter would have been allowed to stay at the poorhouse or even what options would have been available to him if Winston had not acquired him. Strangely, becoming a slave led him to new opportunities.  Historians have argued for years about whether he was truly a slave, just a servant, or perhaps adopted family for the Judge, but the facts are these: Judge Winston listed Peter Francisco as a slave in his records, and he was sent to work rather than school. There is evidence that he was treated better than an average slave, but his work around the 3,600 acre plantation was serious labor and not optional.

     As the boy learned to speak English he told his master what he remembered from his time before appearing on the docks. He had lived in a mansion by the ocean, he said. His mother spoke what he thought was French; his father spoke another language– but what, he couldn't say with any certainty.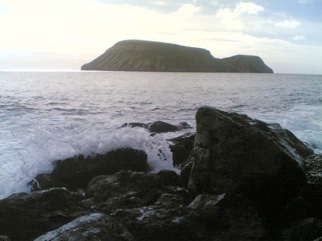 One day, while he and his younger sister were playing in the garden, rough men had seized them. The girl fought and got away, but Pedro was bound, blindfolded, gagged, and carried to a ship. After what seemed to be an endless voyage, he was left alone on the City Point dock. This ended his recollections and was the only link to his past he would ever possess.

     Peter grew quickly. The boy's unusual height and strength led Judge Winston to apprentice him as a blacksmith. By the age of 14 he was six-foot-six-inches and 240 pounds. The hard work of smithing seemed to forge him as much as the metal he struck. He gained a reputation for his surprising strength and was undoubtably highly valued by his master.

      By the year 1775 America was on fire. The years of protest over rights, taxes and rule of the colonies had become its own sort of forge. The Second Virginia Convention was meeting to discuss what could be done to prevent the loss of liberty. One of the representatives that would be speaking at the Convention was Patrick Henry, who happened to be the nephew of Judge Winston. Why the Judge chose to take Peter with him to the Convention we don't know, but we know he stood outside the windows of St. John's church in Richmond with several hundred others listening to the debates. It was there that Peter heard Henry's "Liberty or Death" speech.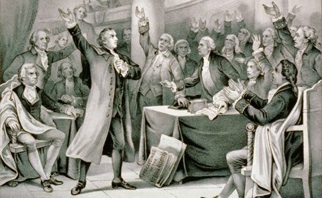 He decided then that he wanted to join the forces assembling to defend liberty. Strange when one considers how little liberty he himself had known. Stories say in a tavern that night two men began arguing politics and 15-year-old Peter told them to stop. When they didn't he picked them up and smacked them together until they agreed. When they got home Judge Winston told him he would not yet part with his servant and that the age of enrollment was sixteen. Peter waited.

       Peter Francisco joined the 10th Virginia Regiment as a private soldier in December of 1776. The new soldier stood a foot taller than the average man and now weighed in at 260 lbs. He soon gained notoriety among his fellow soldiers. He fought with distinction at some smaller skirmishes before finding himself at the battle of Brandywine.