PROGRAMS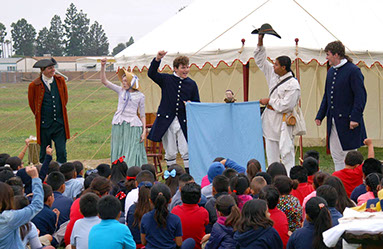 THE LIVING REVOLUTION
Our Interactive Interpretive field trip comes to you.
We offer a program with different options so that your Living Revolution is unique and focused on the activities you want. A full day with lunch break is usually seven activities chosen from our list.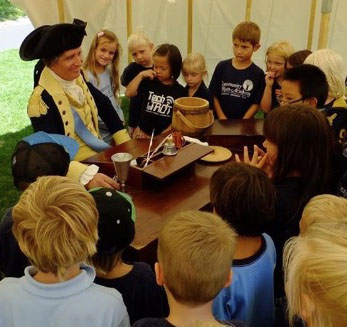 Audiences for groups, meetings, schools and museums-
​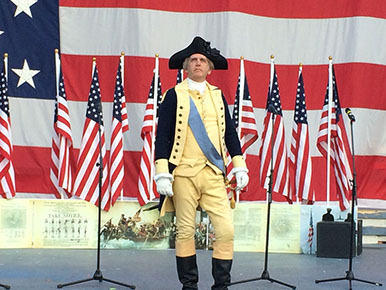 AN AUDIENCE WITH THE WASHINGTONS
A historic opportunity for your business, club or school.
Our first person interpreters will bring General George Washington and Lady Martha Washington to life. Direct from 1779, the General and Lady Washington will be the most memorable speakers you will ever engage. For more information or to schedule contact dan@breedshill.org.
​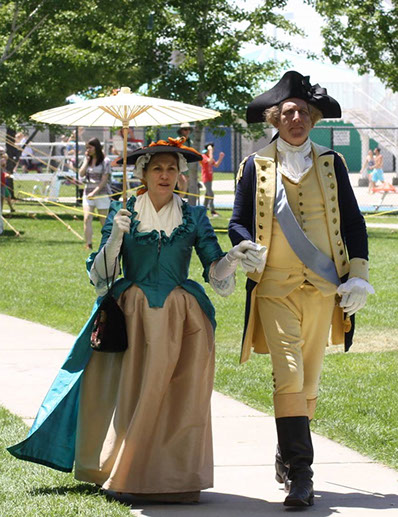 Schools -
​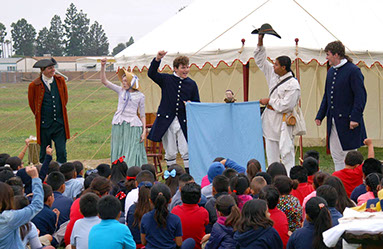 Living Revolution Event Choices
A Revolutionary Name:
Follow the story of real person who lived in the days of the Revolution.
A Home is a Castle:
The Writs of Assistance were one of the earliest arguments about rights in what would become the Revolutionary War. Take up the cause as John Otis did and discover the debate that would lead to the 4th amendment.
Stamp Act:
Why were a few stamps such a big deal? Participants find out why the stamp act mattered.
Boston Harbor a Teapot:
How did the tea really get destroyed in Boston Harbor and why did the Son's of Liberty do it?
Eyes Everywhere (Spies):
The secret services that patriots performed are revealed and spy techniques are learned, including a secret code.
18th Century Foodways:
Open fire cooking demonstration and what a soldiers meal was like on paper and in reality.
Grand Entertainments:
18th century Theatre, Music and Puppets
Amusements: 18th Century Games
Even in the midst of war the soldiers found time for recreation and games. We offer some of those popular with the soldiers and their children.
Playthings:
Making Rag Dolls & Button Buzzers
Many of playthings colonial children had were made by the children themselves. This gives you the opportunity to make your own doll or buzzer.
BOOM A Musketry Demonstration:
We explain it all and demonstrate the workings of the primary weapon of the 18th century.
Order in the Court:
An 18th century court case where one of the Participants is accused of a crime and a jury of their peers must decide their guilt.
Mapping it Out: Basic Surveying
Participants break into groups and learn how maps were made using techniques that a young George Washington mastered as Surveyor of Culpepper County.
A Bitter Pill: Field Medicine/Apothecary
A surgeon was not always readily available. Learn about the folk and field medicine that might save your life or might just end it faster.
Skill with the Quill: Quill and Ink
The skill of writing was a requirement for officers and ladies in society. Mastery of the skill takes hours of practice but we can give you an introduction to it.
The Dark Arts: Wood Block Printing
Newspapers and books didn't have photographs during the Revolution. All pictures were etched, hand painted or printed using carved wood blocks. This is half history lesson and half hands on activity.
Clothes Makes the Man - Or Woman:
What the Americans in different colonies/States wore and why they wore what they wore.
A Different Drum: 18th Century Music
Music was a critical part of life in celebrations, work and especially the Army. There's a lot more than Yankee Doodle.
Dance and be Merry
Colonial Dance: Virginians called dance their "Dearest diversion." A recreation enjoyed at all levels of society we teach participants some of the basic steps to popular dances of the Revolutionary period.
Your Event
We are always open to customizing what we do to meet your needs. We have been proud participants in parades, community celebrations, ceremonies, memorials, commercial videos and historic recreations. We are happy to help you bring history into your event.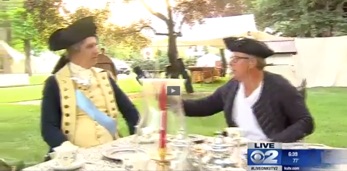 With CBS KUTV News